RIOT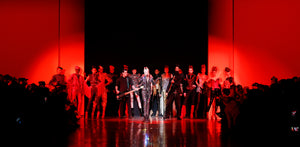 THIS COLLECTION WAS INSPIRED BY DAPHNE GUINNESS AND THE ETERNAL CONFLICT OF GOOD VS. EVIL AS A DRIVING FORCE IN ART, LITERATURE AND FILM.
RENAISSANCE ERA FRESCOES, ALLEGORICAL POEMS SUCH AS JOHN MILTON'S "PARADISE LOST" AND DANTE'S "INFERNO", THE EARLY 1990'S COMIC BOOK CHARACTER LADY DEATH AND KENNETH ANGER'S FILM, LUCIFER RISING ALL SERVED AS SPECIFIC FORMS OF INSPIRATION.
THE OVERARCHING INFLUENCE CAN ALSO BE SEEN IN THE MATERIALS UTILIZED THIS SEASON. FABRICATIONS THAT ARE SIGNATURE TO THE BLONDS, SUCH AS SPIKES, STUDS AND LEATHER, ARE CONTRASTED AGAINST ELEGANT EMBROIDERED LACE, PEARLS AND CRYSTAL ELEMENTS.