COSMIC CABARET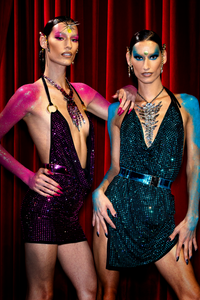 THE BLONDS WERE INSPIRED BY THE NEW YORK CITY LIGHTS, THE LIGHT WITHIN US ALL, AS WELL AS THE NOTION OF GIVING OURSELVES PERMISSION TO CELEBRATE LIFE ONCE AGAIN AND  EVEN THOUGH OUR GREAT CITY WAS FRACTURED, THERE WILL ALWAYS BE HOPE FOR A BRIGHTER FUTURE.
THE BLONDS UTILIZED A MIX OF UPCYCLED MATERIALS TO CREATE A CAPSULE COLLECTION OF SIGNATURE BRAND PIECES THAT ARE VOID OF COLOR ON THE SURFACE,  BUT WHEN LIGHT REFRACTS OFF THEM IT BRINGS FORTH A NEW CREATION, REMINDING US THAT ALL THINGS CAN TRANSFORM.
THIS IDEA OF METAMORPHOSIS AND REGENERATION WAS SHOWN THROUGHOUT, FROM THE CIRCULAR DESIGN OF THE SILHOUETTES, THROUGH THE BEAUTY ASPECTS. THE BLONDS CREATIONS REPRESENT A REBIRTH, THAT OF AN OTHERWORLDLY QUALITY TO REPRESENT THE IDEA OF ALL BEINGS STARTING ANEW.
THIS IS DEDICATED TO THE MEMORY OF NELLIE EHLERS BECAUSE SHE ALWAYS LOVED THE ESCAPE OF "A GOOD SHOW!"

AND TO THE FRONTLINE WORKERS THAT HAVE MAINTAINED, SUPPORTED AND RUN OUR GREAT CITY THROUGHOUT THIS PANDEMIC.